New to Wigs? If you're unclear about how to pick ones that will work best for you, our Wig's Guide is here to help!


Step 1. Measure the size of your head several times to get accurate results.
While average size wigs tend to fit about 95% of customers, you will find that quite a few wigs also come in petite and large sizes. When choosing your wig size, it is also important to consider your body shape and natural hair volume. Even though you have many choices, choosing the best wig for your appearance is still important.
You may choose a smaller size if you are petite and have thick, medium-length hair. While you have thick, long hair, you are better off going up a size.
If you have a medium build with thick, medium-length hair, you can go for a medium size. And if you have thick, long hair, add a size up. If you have thinning hair or no hair, choose a smaller size.
You can pick a large size if you have a large body frame, medium-length hair, and your head circumference is over 22.5 inches. If you have thinning or no hair, go down one size.
All theHair Lengthis in inches from 10inch to 30inch(1inch=2.54cm).

Tips:
1. If possible, it is always safe to go for the longer length because you can always cut the extra inches off anyway. But if the wig length is too short, it is difficult and troublesome for you to expand its length.
2.Don't be afraid to try different lengths. When you are adventurous and give every wig length available a try, you will have more chances to experiment and find the wig length and style perfect for you.
To determine the right size wig for you, measure the circumference of your head from the front hairline, behind your ear, to the nape of your neck, to your other ear and then back to the front hairline. Jot down your measurement, then consult the table below. Please note that sizes may vary slightly by brand and that not all wigs are available in all cap sizes. In short, we hope you find the wig size that works best for you.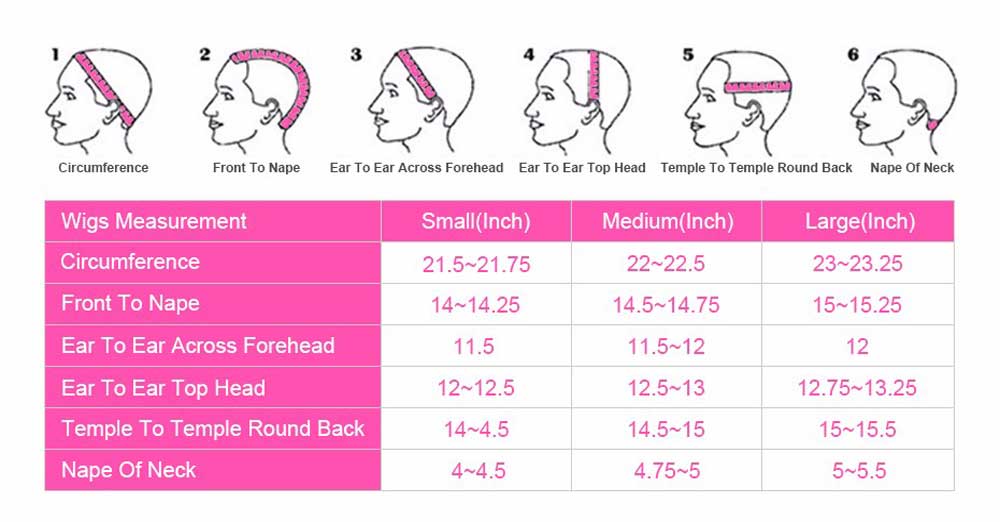 Forehead to the nape of your neck
You will need to place the tape at the front center of your hairline to the hairline at the back of your neck. If you have no hair or little hair, then you need to place your index, ring, and third fingers flat on your forehead, just above your brow bone. You must measure the length or inches from band to band.
Circumference
You will need to place the band in the center of the front of the hairline, then bring the band around the back of the ear, past the neck hairline, and then bring the band to the center of the front of the hairline. This type of measurement will result in something like a circle.
Ear to Ear
You will need to place the tape on your head from your ear to your ear. It would be best not to place the tape on your ear or touch it. Instead, placing the tape on the top of your ear would be best.
Temple to temple
Place the tape measure at your temples and wrap it around the back of your head, touching the other temple.
Generally, the best move is to buy a wig of hair density that matches the density of your natural hair. A matching wig density will also ensure that you do not experience discomfort on the head or damage your scalp. Getting a wig of the right density will ensure that you can embrace the hairstyles that would look perfect and natural on you. each gives a different look and appeal to the viewers.
How Many levels of Density in the market?
Just like human hair has different hair densities, wigs are also characterized based on hair density. The more the wig density, the fuller and thicker the hair will appear. The standard hair density for wigs is 120% which is called Natural/Medium Density. This is almost equal to the hair density of the average human head that varies between 100-120%. We only provide the 150% density and 180% density, they are the best shaping solutions from many sister's feedback. It gives a realistic appearance and is light on your head, making it very much comfortable to wear.
120-130% (Natural/Medium Hair Density Wigs) - This is the regular hair density found on an average human head. It replicates the look and fullness of natural-looking hair and is the standard density of any wig. Most customers prefer to buy natural density wigs as it perfectly resembles their natural hair.
150% (Medium/Heavy Hair Density Wigs) - It gives a more full and voluminous look over medium density wigs. It is worn by women to get a fuller look. Heavy density wigs give a lot of bounce, movement, and style options. You can also customize the hair into curvy and wavy hairstyles using heavy density wigs.
180% (Heavy Hair Density Wigs) - It has a peculiar look. Heavy density wigs are worn by women who want a full and high volume look. The high-density wig allows you to embrace opulent hairstyles. It gives all artists an option to wear the wig in distinctive styles.
Density and Length Recommendation
An important thing to consider when choosing the hair density of your wig is the length of the hair. Here is a chart for wig lengths and corresponding wig density that is recommended preferred by experts -
Wig Length - Hair Density
12 to 14 inches - 120% / 130% / 150%
16 to 20 inches - 150%/180%
22 to 24 inches - 180%
26 to 30 inches - 200%
Recommendations
Before measuring your head circumference for your wig, you should ideally remove any hairstyles that may affect the measurement. When you measure your head circumference, some hairstyles can add volume and thus affect the measurement, such as braids, buns, ponytails, etc.
If you can, you'd better take off some accessories that can affect the measurement result, for example, pins, clips, hair clips, etc.
To get accurate measurements, it is best to use an elastic, non-stretchable band that allows you to measure your head.
Each full cap wig has an adjustment feature inside the wig cap (Velcro or soft snap size tab) that expands or contracts 1 inch in circumference to ensure maximum comfort.
Lace front and 360-lace-front-wig usually have adjustable straps and built-in combs to help hold the unit. Even if your size doesn't fall into these categories, you can easily adjust it to achieve the perfect look for your hair.
You can contact us: support@lovelywholesale.com if you still have questions about measuring your head shape.
Hair Sizes & Test
SameLength Differencebetween Straight Hair and Wavy Hair&Curly Hair.
For Curly and Wavy Hair, the curls fold some length. That's why the same length of straight and wavy hair, the wavy hair is usually shorter.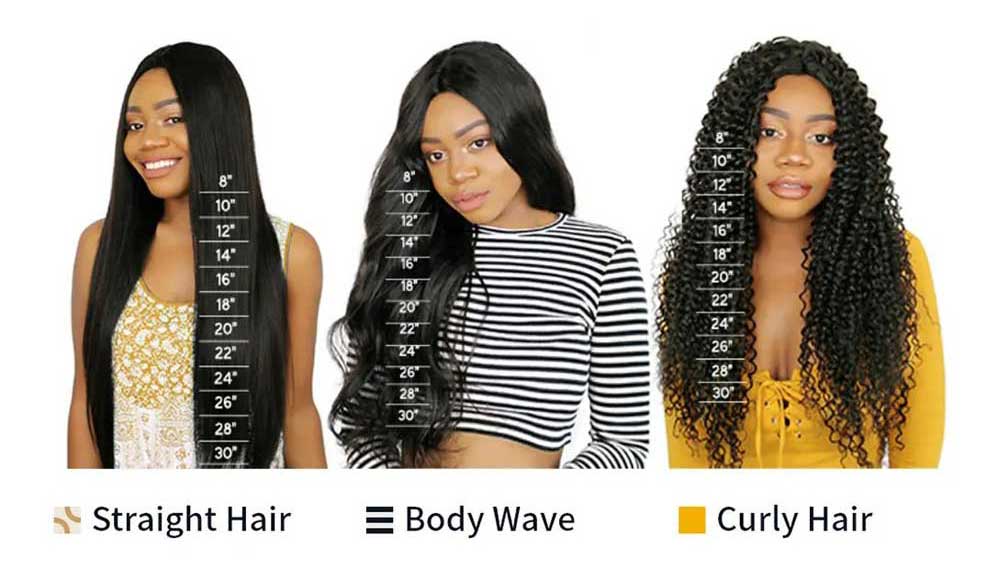 How to Measure Bundle Length. We measurement bundle from the weft top to hair end after streaching hair to straight.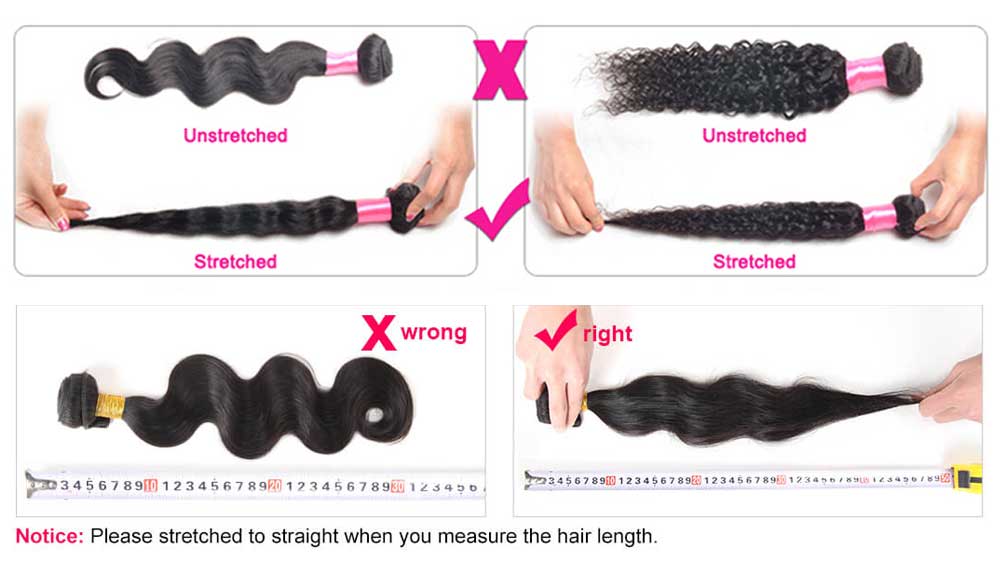 How to Measure Closure& Frontal Length. We measure the closure length from the top of lace net to hair end.

How to Measure Wig Length. The Wig cap is22.5for most of users, we will customized small cap(21.5)or big cap (23.5) when you leave note to us in your order.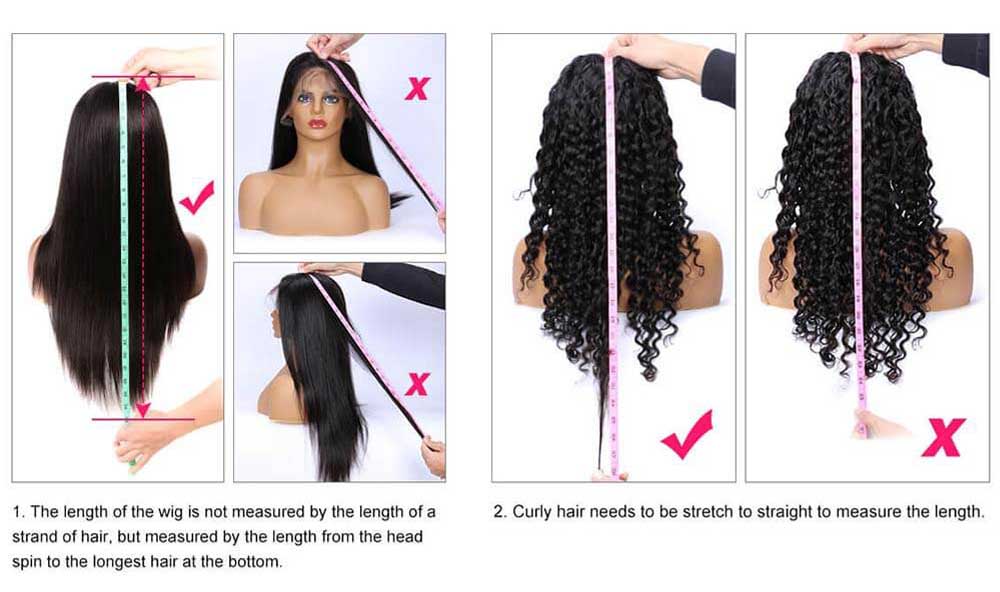 How to Comb Hair?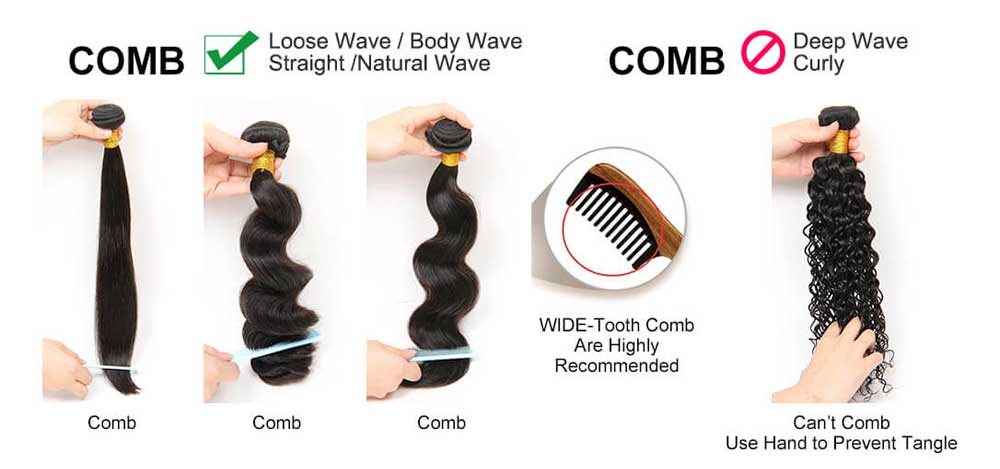 How to Test the Difference between Human Hair and Synthetic Hair. You may useBurning Test.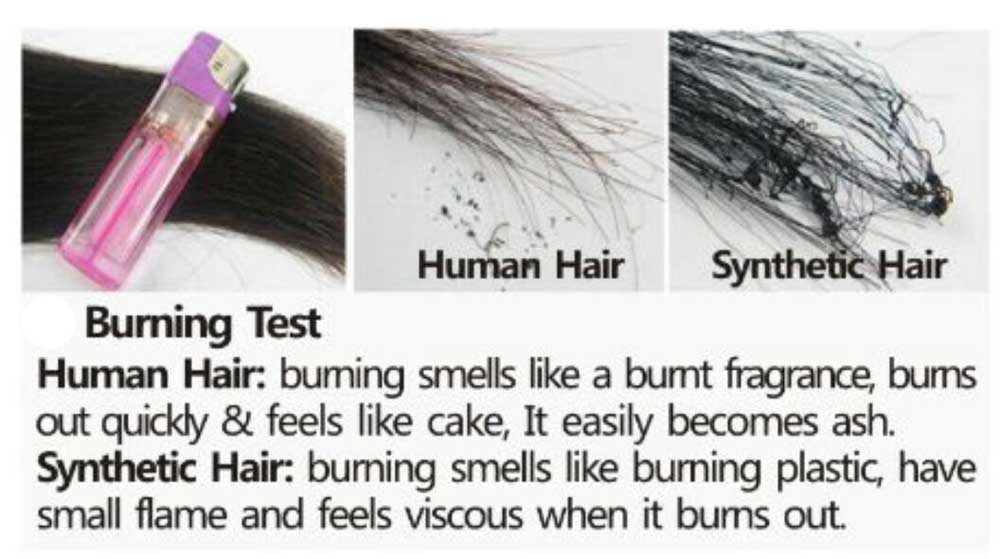 Step 2. What Type of Hair is Right for You?
When considering composition, or how a wig is structured, think about the hair type as well as the cap construction. While you may have preconceived notions about human hair and synthetic hair, the truth is that they both have advantages and limitations, which make them the right choice in different situations.
⭐⭐⭐ #1 Premium Human Hair

Synthetic Hair

⭐

offers the most natural look & feel, more careful collecting and processing techniques result in higher quality product
higher quality synthetic hair offer a look and feel quite similar to human hair

⭐

presents the most styling versatility
offers limited styling versatility (hot tools cannot be used)

requires more styling - especially after washing
requires little maintenance

⭐

very durable - can last over 1 year with proper care*
less durable than human hair — 4-6 months with proper care*
We are selling nice virgin hair, which is highest quality, long- lasting, professional grade. It is 100% human hair, and top virgin hair. EepsHair gives you salon quality hair with less time or money.
Step 3. Choose Your Cap Feature
Women notice hair loss or thinning quicker than men because of combing and washing regimens. Each person's hair loss journey is unique and requires different alternative hair solutions. What Alternative Hair Option Is Right For Me?
Different cap constructions each have a different method of attaching hair to the cap, and each has its own set of advantages.
Full Lace
- Creates the illusion of natural hair growth from the scalp where the hair is parted
- Each hair is individually hand-tied to a sheer base (entire cap)
- The softest and most comfortable cap, it's ideal for a sensitive scalp & hair loss
- Allows for styling versatility as you can comb the hair in any direction
- Soft and comfort, also known as 100% natural hair
Lace Front
- Creates the illusion of a natural-looking front hairline
- Each hair is individually hand-tied to a section of sheer lace (but not entire cap)
- Allows for styling hair away from the face
- Most are ready-to-wear & temple-to-temple
- Made with a delicate material that should be handled with care
Basic Cap
- Includes both capless and traditional constructions
- Most durable & affordable
- Most or all of the cap has open wefting for better air ventilation
- Often gives the hair a natural lift with built-in volume at the crown
- Hair is pre-teased at the root to help mask the cap beneath
Step 4. Choose your Color & Style
As most styles offer a range of color choices, this is a good step. As you zero in on styles you like, you can begin to review the colors available. If you're new to wearing wigs, consider staying close to your natural shade to ease the transition. Our goal for our TruColor program is to make shopping for the right color online just as easy as in a store (or easier)!
What Is The Best Hair Color?
1. The auburn color
This rich shade of red is perfect for adding a pop of color to dark skin. It looks especially beautiful with a warm golden tone.
2. Honey blonde hair color
This shade is perfect for anyone who wants to go blonde but doesn't like super-high-impact blonde tones. It adds a touch of warmth and dimensionality to your hair, making it instantly interesting.
3. Copper hair color
Coppery shades lift your neutral skin tone in a huge way. If you're looking for something sultry and sexy, go for copper hair color.
4. Chocolate brown hair color
This classic hue is a low-maintenance girl's dream. It is very flattering to anyone with warm colors.
5. Dark chocolate hair color
If rich colors are your style, you can't do better than dark chocolate. It can bring all the drama!
6. Strawberry blonde hair color
Strawberry blonde lightens black hair and plays on the warmth of your face in a wearable way.
Don't Be Afraid of Color! Most people can wear up to three shades darker or lighter than their natural color. Also, don't be afraid to change your color for the season. It's not uncommon to go slightly lighter in the spring and summer and darker in the fall and winter. So go ahead, be that red head you've always wanted to be.
Go Curly or Straight
Choose a straight wig or a curve wig? The first thing to consider is whether you want to redesign the wig. You can color, curl or perm a Essentials wig, but at a higher price. The Original wig is also a good choice at most times. How can you narrow down your choices to the ones that will be just right for you? Here are a few helpful tips to help bring out your inner Eep.

The Features Of Water Wave Hair
1. The curls of water wave hair bundles are not in one direction but opposite.
2. Water wave hairstyle for black women is similar to African American hairstyles and carries a lot of volumes, so it can blend perfectly with Brazilian curly hair.
3. Brazilian hair weaves, Indian water wave hair, Peruvian water wave hair, Brazilian water wave hair. There are various hair textures for the customers to opt for.
4. 100% human virgin hair 3 bundles with closure, 4 bundles with closure, 3 bundles with lace frontal, 4 bundles with lace frontal with an affordable price.
5. Exquisite top weft, lustrous, full, and thick.
6. No tangle, no shedding, 100% human virgin hair from EepsHair.
7. Holds curl well, lasts up to 1 - 2 years at least, not being processed, can be dyed, bleached, straightened, curled, and permed according to your need.
The Features Of Deep Wave Hair
1.Double or single weft, tight and neat, not easy to tangle, free shedding.
2.All curls go the same direction.
3.High elasticity, healthy, shiny, bouncy.
4.Last lifespan, the hair can last up to 1 - 2 years with the proper care.
5.Health and full at the end, no split, no dry.
6.100% human virgin hair, can be dyed, bleached and restyle according to your desire.
The Features Of Body Wave Hair
1. The hair is looser wave, which is characterized by massive volume.
2. It has large waves, so it requires low maintenance.
3. Its appearance is great, luster, soft, silk and bouncy.
4. Make 100% human hair. You make anything you want with this hair.
5. The hair is not easy to fall out and not easy to tangle. And the weft is sewn carefully and firmly,
6. The curls face the same direction.
7. Affordable than most hair bundles.
8. Highly versatile, so it is easy to style it differently if you want.
Step 5. Choose the Right Hair Care
Let's not forget about one last (and very important) "C"... Care. Great hair deserves great care! Once you have your beautiful wig, you want to do all you can to keep it looking fantastic.
Don't forget to protect your natural hair!
A traditional wig will lace up on the hairline in front of your forehead. If too often, this can cause irreparable damage to your hairline. With this style you can keep your scalp healthy. Remember: if you give love to your hair & it will love you back!
Next up, EepsHair's Exclusive Sale on!
$99-$5, $119-$10, $149-$15,$199-$20,$259-$25
USE CODE:

EEPS25