LovelyWholesale offers meaningful incentives for every action taken by the user, which can be converted into money on your next purchase. If you have installed LovelyWholesale online store app on your mobile device, making daily check-in can earn you daily rewards in a blink!
So, Let's Get Started to Save More!
To do this,
Make sure you are already logged into the app and open the app from the home screen.
Browse the "Daily Check In" Page and automatically complete the Check-in, you'll earn daily rewards.
Tap on the "Remind me" to toggle to on to make sure you receive timely updates.
DAILY CHECK IN EVENT
For PC & Mobile users:
You can download the LovelyWholesale App on your devices to get easy access.
For LovelyWholesale App users:
Click the calendar icon ("Daily Check In" button) on the top menu

Visit the Daily Check-in Page and automatically complete the day's Check-in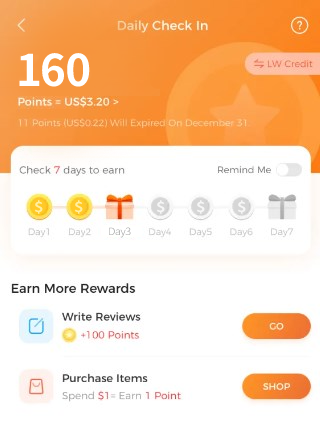 DAILY CHECK IN REWARDS
Rewards 1: Sign In and Get the Special Launch Rewards
You will receive additional 50 Points the 1st time you check in (Only Once Per User).
Rewards 2: Sign In and Get the Daily Rewards Every Day
By simple login daily, you'll earn the daily check-in rewards.
We'll say it straight, the Daily Check-In event is worth it because you get free rewards just by logging into our app. You can earn extra points to level up your VIP levels and get store credit/balance that they can be redeemed for discounts on future purchases. As days and months pass, you'll save more and more.
Rewards 3: Sign In for a Certain Number of Days to Get the Big Rewards
Now let's proceed to the Special Rewards! There are special rewards on Day 1, Day 3, and Day 7 that give the more valuable rewards. You have to accumulate certain amounts of check-ins in a reward cycle to claim the corresponding rewards, accumulate check-ins and purchase yourself something nice!
Rewards 4: Sign In and Get More Free Bonus & Rewards
When you meets the specified number of check-in days, you can re-participate in the check-in event during the event time.
For example, the maximum number of check-ins is 7 days, and you have checked in for 7 days, then when you open the check-in page the next day, you will check in again from the 1st day of a new cycle, and you can accumulate these free rewards over time.
Eventually, it will look like something to be awed by and make a super huge savings.
BONUS/ REWARDS TYPE
Type

Related

Status

Points
50 LW points = 1 USD
*pay up to 15% of the item price in each order
Check >


Coupons/ e-GiftCards

Valid for one-time use only

May not be combined

Not redeemable for cash

Not valid for prior purchases

Store Credit/ Balance
Cash/ Price Reductions
Free Product
Sweepstakes Chances
Refer to the Spin to Win Page
AND MORE!!! Check Your Account to Receive the Bonus & Rewards!
(Note: During server maintenance, there may be a slight delay in the delivery of rewards.)
The list of rewards varies from day to day, please refer to your actual reward on "Daily Check In" page for specific information.
DAILY CHECK IN RULE
Each cycle lasts 7 days.
The rewards are automatically distributed after the day's Check-in.
Each user can check in once per day only.
Everyone can get free rewards each time they log in daily.
Registered account is required to redeem your reward.
Automatic Check-in will not be completed when the user is not logged in.
If you are already logged in, you may still need to visit the Daily Check-in page to complete the Automatic Check-in for the day.
If the Daily Check-in automatic procedure fails to execute, you can try to Refresh the current page or Restart the app (If these are useless, please Report the problem to our customer service team).
The Daily Check-In event does not record the exact dates that a player has checked in as it only lists the total of days.
You will receive the big rewards if you have checked in for 7 days.
If you do not complete the current cycle, the check-ins will not be counted toward the next cycle.
If you forget to log in consecutively, your progress will not be reset.
In case you miss a day, then the next day you log on will be counted as the missing day, so don't worry about missing the daily check-in.
In case you tend to forget to check in with the app every day, Tap on the "Remind me" to toggle to "on".
Make sure you always check in daily, the rewards will get added consecutively every day.
If you have checked in for 7 days - Continuous is included (the Reward is successfully issued), the Rewards and Check-in progress are refreshed on the next day at 00:00.
We do NOT reset your check-in progress, which means that no matter when you log in, a different reward is waiting for you every day.
Every action you take is a vote for the rewards you wish to receive.
LovelyWholesale reserves the right to final interpretation and explanation of the above rules to the extent permissible by law.